Vall Llach - Embruix
2017
RED WINE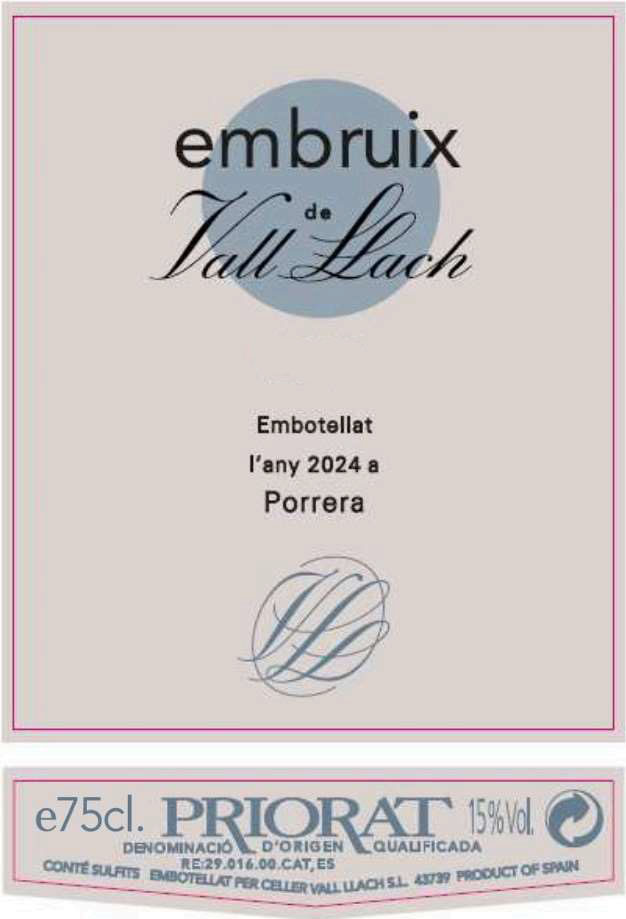 Producer Vall Llach
Blend 8% Cabernet Sauvignon
18% Carinena
27% Garnacha
26% Merlot
21% Syrah
Country Spain
Region Catalunya
Appellation Priorat
UPC 877397001039
Reviews
Wine Spectator 91
This red is dense yet plush, with blackberry and espresso flavors, accented by licorice, wild herb and mineral notes. Well-integrated tannins and balsamic acidity keep this focused. Harmonious, in a savory style. Garnacha, Merlot, Cariñena, Syrah and Cabernet Sauvignon.
by TM, Wine Spectator , 2019
PeninGuide 91
Nose: cocoa bean, ripe fruit, fruit preserve, dried herbs.
Palate: good structure, flavourful, long.
Full-bodied.
by PN, PeninGuide , 2020
Technical Details
Description
Sourced from estate-owned 7- to 25-years-old vines, Vall Llach's Embruix (pronounced Embroosh), means "bewitching" in Catalan and the name, along with the symbol of a full moon on the wine's label, is testament to the winery's interesting biodynamic winemaking. Deep cherry red in color with a garnet rim, this wine contains soft aromas of black plumbs, cherry liqueur, freshly milled spice (including clove and black pepper), intertwined with earthy mineral notes. Intense and concentrated for an entry-level Priorat, the Embruix de Vall Llach has well-integrated acidity, round tannins and great structure, assuring this wine will age well for many years.
Estate
The magnificent century-old estate vineyards boast 60 to 90-year-old Cariñena and Garnacha vines as well as newer plantings of Garnacha, Cabernet Sauvignon, Merlot and Syrah that add complexity to Vall Llach's range of widely acclaimed wines. Priorat's notoriously stingy llicorella (fractured black slate) hillsides produce extremely low yields of intensely flavored grapes. On average, it takes fruit from 2 to 8 old vines to make a single bottle of Vall Llach Mas de la Rosa.