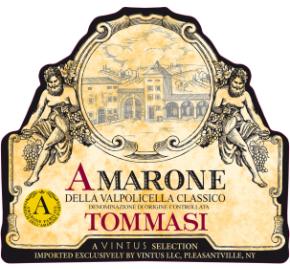 Producer

Tommasi Wine

Blend

50% Corvina Veronese, 15% Corvinone, 5% Oseleta, 30% Rondinella

Country

Italy

Region

Veneto

UPC

0 15643 42069 6

Activate your account to purchase online, view your detailed history, get tasting notes from over 10 major publications, request our catalogs/POS, and much more!

IMPORTANT NOTE:
Monsieur Touton Selection Ltd. is a wine and spirits distributor, serving industry professionals with valid liquor licenses only. If you do not qualify as such, ask your local liquor store/restaurant to contact us! This item may or may not be available in selected states.
This website is for informational purposes only.
Tasting notes
A warm, ripe scent on the nose that is intense and of great refinement. It is a full bodied wine with lots of cherry notes and plum flavors.
Estate
Tommasi is historically and today a standard bearer of the Amarone appellation, and one of the most important quality producers in the Veneto. The family-run estate was founded in 1902 by Giacomo Tommasi in the village of Pedemonte, which lies in the heart of the Valpolicella Classico region that extends north-west of Verona. The family owns 234 acres in Valpolicella Classico, making them the single largest land owners in the area. Over the years they have steadily expanded their holdings in other areas of the Veneto, and now own a total of 370 acres. As has been the case since the winery's establishment, the family works only with grapes they grow, an important quality decision and reflection of their deep connection to the Valpolicella soil.
Vineyard
The best clusters are selected exclusively by hands from Tommasi's top two vineyards in the five key valleys (also known as fingers) in the Valpolicella Classico area: La Groletta, a south-facing hillside vineyard close to Lake Garda, and la Conca d'Oro, a terraced vineyard which translates to "the golden shell."
Vinification
After harvest, the grapes are placed on small racks in a large grape-drying room known as a fruttaio, where they are dried by cool autumn and winter breezes until the following February. Over these months the grapes lose about 50% of their weight, concentrating the level of natural sugar. After fermentation, the wine is aged for 30 months in large 35-hectoliter Slavonian oak casks, followed by one year in bottle.