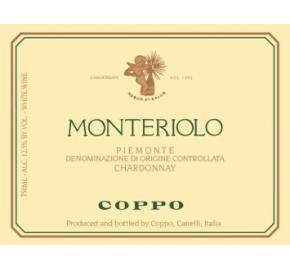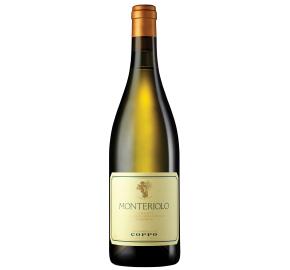 Coppo - Chardonnay - Monteriolo 2015
Log in to view pricing and order online
Don't have an account? Register here
Item# 83309-15/6PK
Tasting notes
Bright yellow with golden hues, Monteriolo offers juicy flavors of ripe tropical fruits, such as pineapple and melon, followed by pure, fragrant aromas of vanilla, apple pie, caramel, and chamomile. On the palate, the bright acidity balances the supple tropical fruit flavors. A rich finish lingers on the palate with a note of tangerine.
Description
Chardonnay is not, as many believe, a recent introduction to Piedmont. This grape has been present in the region since the first half of the 1800s, thanks to Filippo Asinari, Count of San Marzano and Costigliole and an important political-military figure. Upon his return from France, where he collaborated side-by-side with Napoleon, he brought home several vines of Chardonnay from the famous vineyards of Montrachet with plans to cultivate them in Costigliole. Chardonnay still grows in Piedmont today because the combination of the soil and microclimate is well suited to this variety, allowing it to take root and flourish.
Food pairing
Recommended with rich pastas, quiches, omelets, and grilled white meats. It is also superb with grilled or baked salmon.
Wine
A delicious 100% Chardonnay grown in marly, chalky and barrel fermented for extra creaminess and refinement. Monteriolo is matured in barrel for eight months before it is refined, filtered and bottled. It then is held in bottle for eight months before it is released from the winery.
Ageing
Aging Container French oak barriques
Size of Aging Container 225 L
Age of Aging Container 50% new and 50% used
Cooperage French oak
Length of Aging Before bottling 8 months with frequent batonnage
Length of Bottle Aging 8 months
Estate
The historical underground wine cellars of Coppo are a UNESCO World Heritage site. They are part of the network of underground cathedrals, a temple of wine dedicated to its history and the hard work of their history. Built beginning in the late 18th century, initially intended as small cellars to conserve wine, they were expanded from 1800-1900 to what they are today. The historical wine cellars of Coppo extend under the hill of Canelli for a total of 5 thousand square meters (16,400 ft) and a depth that reaches 40 meters (130 ft).
Technical data
Aging:
Aging Container French oak barriques
Size of Aging Container 225 L
Age of Aging Container 50% new and 50% used
Cooperage French oak
Length of Aging Before Bottling 8 months with frequent battonage
Length of Bottle Aging 8 months
Analytical data:
Alcohol 12.50 % vol
Total Acidity 5.80 g/l
pH 3.18
Vineyard
Grape Variety 100% Chardonnay
Production Area Canelli, Agliano, Castelnuovo Calcea
Exposure southern - southeastern
Soil Composition calcareous marl
Training System Guyot
Elevation (feet) 660
Vines per Acre 1800
Vinification
Harvest Date August
Harvest selection in vineyards of the healthiest, ripest grapes collected in 20 kg crates
Fermentation Container French oak barriques
Length of Maceration (days) 14
Malolactic Fermentation partially carried out