E. Guigal - Cotes-du-Rhone - Rose
2016
ROSE WINE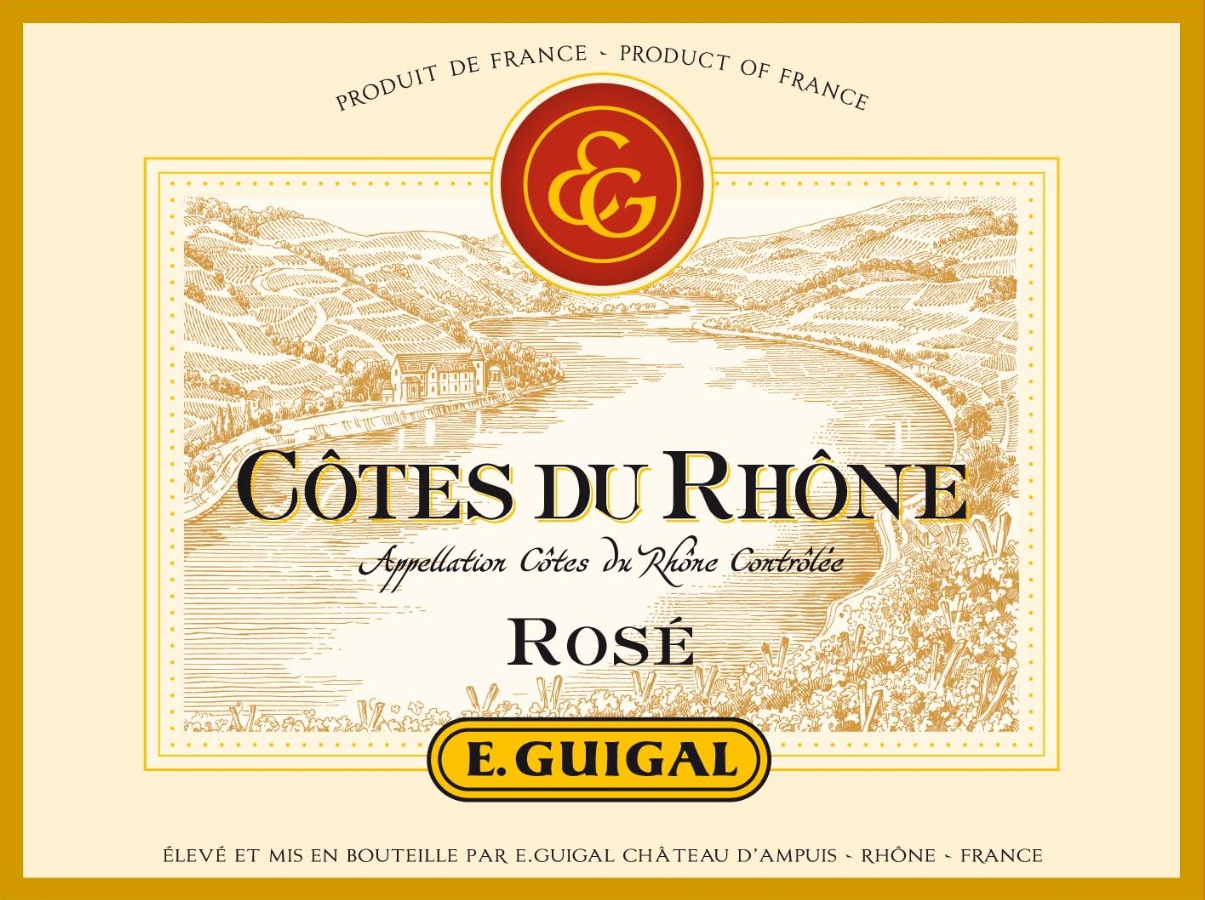 Producer E. Guigal
Blend 30% Cinsault, 60% Grenache, 10% Syrah
Country France
Region Rhone Valley
Appellation Cotes Du Rhone
UPC 7 90559 00100 8
Reviews
Vinous Media 90
Bright orange-pink. Ripe red berry and tangerine flavors and a subtle herbal flourish on the expressive nose. In a plush yet lively style, offering bitter red currant and cherry flavors braced by a spine of juicy acidity. Clings with very good tenacity on the red-fruit-dominated finish, which is given a zesty edge by a late jolt of white pepper.
by JR, Vinous Media , 2017
Wine Enthusiast 90
Guigal's Cotes du Rhone rose is a blend of 70% Grenache, 20% Cinsault and 10% Syrah. It's a dark pink shade, rather full bodied and rich. Some earthy, savory notes help balance out the intense cherry-berry fruit, lingering on the finish.
by JC, Wine Enthusiast , 2017
Robert Parker 90
The 2016 Cotes du Rhone Rose is another fine example of this wine. From a top-notch vintage, it bursts with red berries and citrus fruit, exuding freshness and life. Drink this silky-textured, medium-bodied lovely over the next several months—it's one of the few Guigal wines that doesn't receive extended élevage or particularly reward aging.
by JC, Robert Parker , 2017
Technical Details
Estate
The firm of E. Guigal, located in Ampuis,
was founded in 1946 by Etienne Guigal.
Since 1961 his son Marcel has led the
estate, and his unparalleled work ethic and
dedication to quality have brought attention
to Côte-Rôtie and other appellations
throughout the Rhone that were in danger
of being lost, and lifted the Guigal wines
to the pinnacle of the wine world. Today,
Marcel's son Philippe serves as Director
and Oenologist, continuing the tradition
of leadership in the Rhone Valley and
uncompromising excellence.
Vineyard
The Guigals work with fruit specifically
grown to make superior rose wines, grown
on soils that are predominantly either clay
limestone or pebbles and alluvia. The
2016 is comprised of 70% Grenache, 20%
Cinsault, and 10% Syrah, with an average
vine age of 25 years. Yields are low at
around 2.3 tons per acre.
Vinification
The handling in the winery is to create
a wine of complex flavors, texture and
structure. The wine, in fact, is handled in
the same way as their far more limited Tavel
rose, the single top appellation in France
for rose. The key is a masterful maceration
followed by a long, cool fermentation that
because of the quality of the grapes brings
an array of fruit, mineral and even a touch
of spice notes, as well as both an appetizing
fleshiness and a frame that carries the wine
along.
Wine
The Guigal family has made serious rose
wines since the 1940s, and their Cotes du
Rhone Rose, like all their Cotes du Rhone
wines, is humble in name only. The wine
bursts with irresistable fresh red fruits, and
yet is also long and satisfying. Because of
its quality and body, it's a rose that you can
bring to the table, and do so all year long: it
is a rose that offers both refreshment and
pleasure.