Bollinger - Special Cuvee
NV
WHITE SPARKLING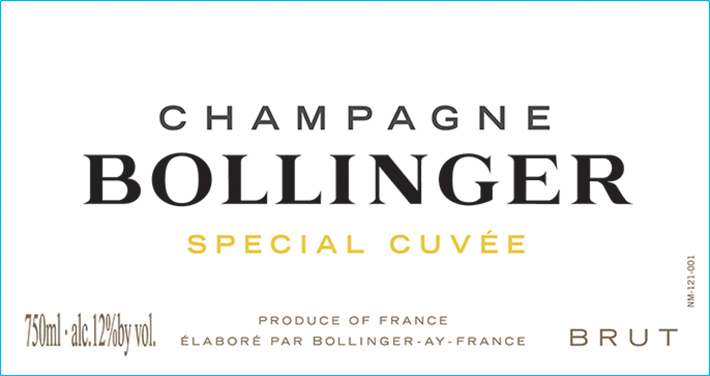 Blend 25% Chardonnay, 15% Meunier, 60% Pinot Noir
Country France
Region Champagne
UPC 852165006003
Reviews
Robert Parker 92
Bollinger's NV Brut Special Cuvee is a blend of 60% Pinot Noir, 25% Chardonnay and 15% Pinot Meunier, and the grapes are mostly (more than 85%) sourced in Grand Cru and Premier Cru villages. The majority of the Special Cuvee is reserve wines, part of which have been aged in magnums for five to 15 years. The disgorgement I tasted in May 2018 displays an intense golden-citrus color and has a refreshing, concentrated bouquet of citrus fruits, sweet cherries, ripe apples, white flowers, toast, walnuts, ripe apricots and peaches, with just a touch of brioche. On the palate, this is an intense, very elegant and refined cuvee with a very long, refreshing, intense, aromatic and salty finish. This is an excellent Champagne with a beautiful chalky texture in the aftertaste.
by SR, Robert Parker , 2018
Wine Spirits 93
One of Bollinger's great assets is a massive stock of reserve wine, including 600,000 magnums held under cork. Gilles Descôtes tends those reserves, working with the blending team to subsume the variations of the current vintage into Bollinger's Special Cuvée by using a majority of reserve wines in the blend. The result is a rich and harmonious Champagne with deep reserves of flavor. Its substantial, formal structure feels polished, its flavors balancing the cool earthiness of a limestone cave and the sunnier, bright floral notes of fresh cream. Built for food, whether emphasizing the freshness with lobster bisque, or the depth with beef Wellington and chanterelles.
by W&S, Wine Spirits , 2014
Wine Spectator 93
A beautiful Champagne. Complex and elegant, evoking ginger, jasmine, citrus and honey aromas and flavors, accented by a biscuit and grain component coming as much from barrel fermentation as yeast aging. Very firmly structured and long.
by BS, Wine Spectator , 2003
James Suckling 92
A Champagne in good form, the nose has a playful contradictory nature with complexity that comes from deep within the DNA cast against some very fresh notes - lime citrus, lime leaf, lemon, nectarine, white cherry and deeper more brambly red fruits, plus gentle spices and freshly roasted nuts, all here. The palate has supple, smooth and creamy texture with a flavorsome wrap of fleshy peach and white cherry flavor. Smooth, deep and round, acidity holds fresh right through to the fresh almond finish. Drink now or hold for up to five years.
by JS, James Suckling , 2015
Burghound 93
There is lovely complexity to the distinctly yeasty nose that combines high-toned green apple, pear, white flowers and gentle citrus nuances. The clean and sleek flavors are supported by a crisply firm but fine mousse where the finish is medium dry and lingering. It's not all that often that I suggest that readers cellar NV Brut but this is an example that absolutely cries out for it. I suspect that the texture will materially change for the better (i.e. become creamier) and better depth will be in the offing as well. Put it this way: this is a perfectly good Champagne right now but with 4 to 7 years of bottle age it could be first-rate and I would suggest buying it only if you're going to cellar it for at least a few years first. Note further that my rating assumes that the wine will be cellared.
by AM, Burghound , 2015
Technical Details
Good pairing
Any fish, especially sushi and sashimi.
Seafood: shrimp, prawn, crayfish, grilled lobster.
Poultry and white meat.
Parmesan, good cured ham.
History
In 1911, Georges Bollinger's British agent gave him the idea for the name Special Cuvee - "special" written the English way, without an accent. He thought the French expression "Brut sans annee" was no match for such a subtle champagne… More than a hundred years later, the name of Bollinger's key figure champagne still symbolizes both its expertise and its history.
Food pairing
Any fish, especially sushi and sashimi.
Seafood: shrimp, prawn, crayfish, grilled lobster.
Poultry and white meat.
Parmesan, good cured ham.
Tasting notes
Color: A golden colour, distinctive of black grape varieties ; very fine bubbles.
Nose: ua beautiful aromatic complexity ; ripe fruit and spicy aromas ; hints of roasted apples, apple compote and peaches.
Palate: A subtle combination of structure, length and vivacity ; bubbles like velvet ; pear, brioche and spicy aromas, notes of fresh walnut.
Special Cuvée is perfect shared among friends, for a simple and meaningful moment. It is the champagne we give to the people we love and who love nice things. To enhance its unique style, bouquet and aromas, Special Cuvée is best served between 10 and 12°C. You can enjoy Special Cuvée right away, or choose to age it in your cellar.