Champagne Ayala - Brut Majeur
NV
WHITE SPARKLING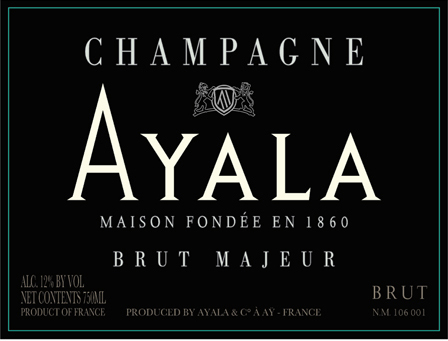 Producer Champagne Ayala
Blend 40% Chardonnay, 20% Pinot Meunier, 40% Pinot Noir
Country France
Region Champagne
UPC 8 16360 00101 0
Reviews
Wine Enthusiast 91
Now owned by Bollinger, Ayala's Champagnes have seen great improvement in recent years. This nonvintage Brut is complex, with its dry character given weight by a hint of toast, almonds and a taut aftertaste.
by RV, Wine Enthusiast , 2011
Wine Spectator 92
There's a firm, chalky edge to this minerally Champagne, and mouthwatering flavors of candied lemon peel, green apple, crystallized honey and biscuit. This has an elegant texture and an overall sense of style. Drink now through 2020.
by AN, Wine Spectator , 2011
Wine Spirits 90
Luscious ripeness lends this wine a quince-like flavor, feeling round and generous against the chalky briskness of Champagne. For all its fruitiness, this is dry, firm and grounded, a clean aperitif or a first-course wine for a rabbit terrine.
by W&S, Wine Spirits , 2013
Vinous Media 90
Ayala's NV Brut Majeur is a solid entry-level wine. Dried pear, hazelnut, spice and licorice notes open up in a pretty, toasted NV Champagne to drink now and over the next few years. The Pinot comes through loud and clear in the wine's breadth and overall texture.
by AG, Vinous Media , 2015
Technical Details
Estate
Founded in 1860 by Edmond de Ayala, Ayala is one of the most historic houses in Champagne. It was one of the 18 founding members of the "Grandes Marques de Champagne" syndicate in 1882 and went through a golden age in the 1920s and 1930s, when it was one of the largest 10 houses in Champagne. Known more recently as "the sleeping beauty of Champagne," it began its reascent to fame when it was purchased the Bollinger group in 2005.
Vineyard
Ayala currently owns 35 acres in Champagne. Thanks to its privileged location in the heart of the Grand Crus of Montagne de Reims and their link to Bollinger, they also have unique access to top quality grapes.
Vinification
Everything from grape reception to vinification, aging, riddling and disgorgement is done at the Ayala cellars. Brut Majeur is fermented in stainless steel, with a focus on freshness and precision. It spends 2.5 years on the lees and rests in the cellar for at least 3 months after disgorgement.
Wine
Brut Majeur is a blend of Pinot Noir (40%), Chardonnay (40%) and Pinot Meunier (20%). Pinot Noir and Chardonnay bring vinosity and delicacy together in a very harmoniously balanced blend. The complement of Pinot Meunier adds a charming touch of fruitiness and liveliness.