Chateau Prost
2012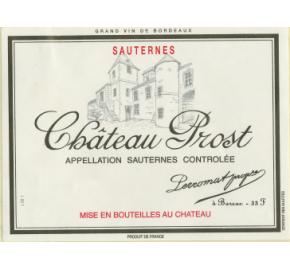 Activate your account to purchase online, view your detailed history, get tasting notes from over 10 major publications, request our catalogs/POS, and much more!

IMPORTANT NOTE:
Monsieur Touton Selection Ltd. is a wine and spirits distributor, serving industry professionals with valid liquor licenses only. If you do not qualify as such, ask your local liquor store/restaurant to contact us! This item may or may not be available in selected states.
This website is for informational purposes only.
Description
Chateau Prost This property was originally known under the name of Montalis as far back as 1602, when Mathurin Baudoin, lord of the noble houses of Bosc (Nairac), Luzies and Montalis (Prost), paid tribute to the Duc d'Epernon. The noble house of Montalis, with its vineyards, winery and wine store house subsequently passed from one family to another by inheritance or sales. It was purchased after the French Revolution by Mr Prost who renamed it after himself. Later the Boireau family was owner for over a century and a half. When Jean Perromat inherited Chateau Luzies, he decided to acquire Chateau Prost and its vineyard in 1965. Just in front of Chateau Nairac and Chateau Luzies, the vineyard is located on an old terrace near the church overlooking the Garonne.In 1855, and in the Edouard Feret's book on Bordeaux and its wines, Prost (Montalis ) was classified as "cru bourgeois superieur".
Winery Technical Data
Area: 11 hectares.
Soil: Clay-siliceous soils over a chalky sub-soil.
Grape varieties: Sauvignon 20%, Semillon: 75%, Muscadelle 5%.
Production: Annual average of 32,000 bottles.