Chateau Cos d'Estournel
2015
RED WINE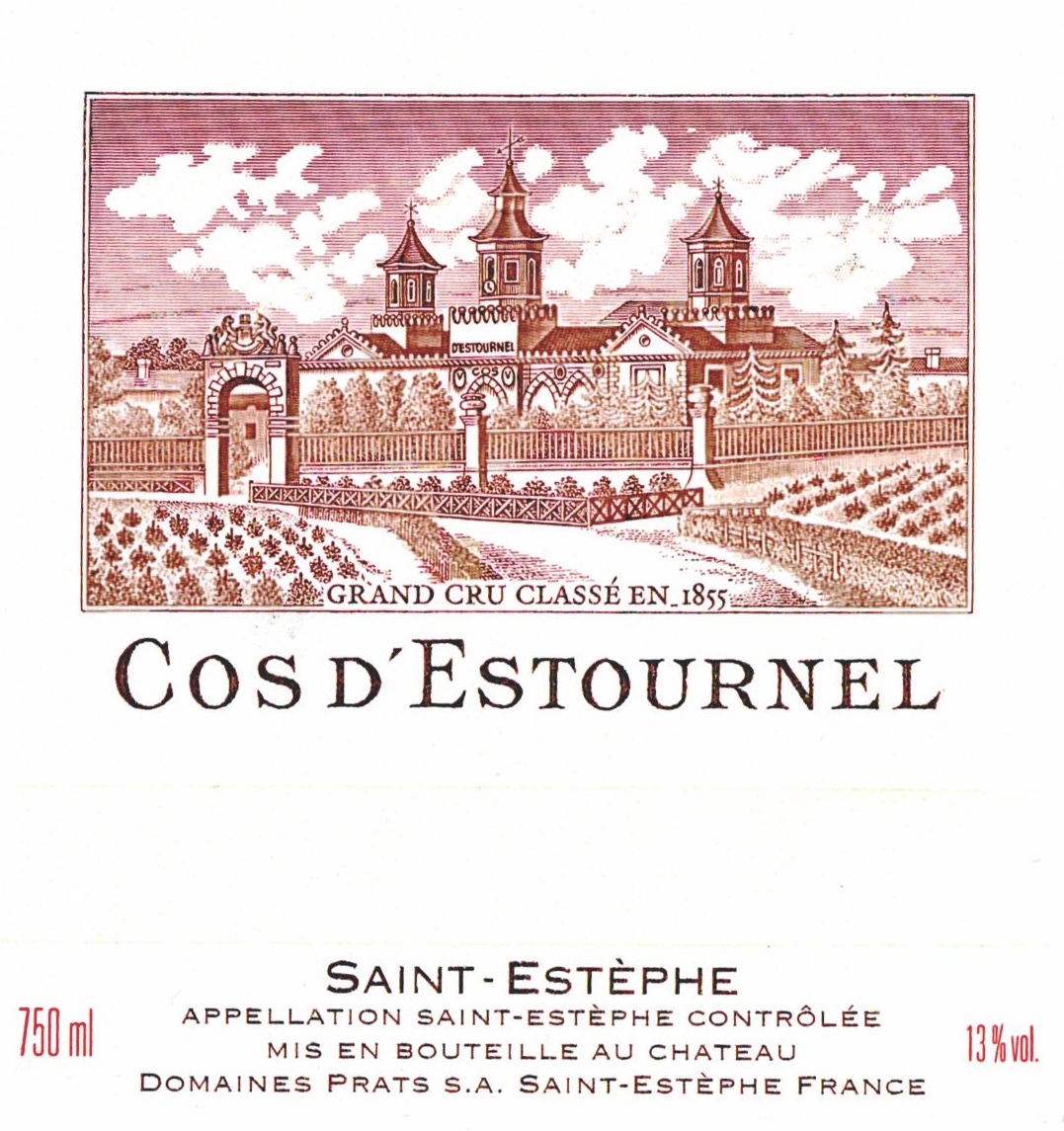 Producer Chateau Cos d'Estournel
Blend 2% Cabernet Franc
75% Cabernet Sauvignon
24% Merlot
Country France
Region Bordeaux
Appellation Saint-Estephe
UPC 0 15643 50579 9
Reviews
James Suckling 97-98
This shows what great selection did in the northern Mêdoc. Big surprise. Really excellent. Full body, chewy and rich tannins and loads of ripe fruit. Black currants, blueberries. It has hot and ripe tannins yet cool fruit
by JS, James Suckling , 2016
Robert Parker 95+
Composed of 76% Cabernet Sauvignon, 23.5% Merlot and 1.5% Cabernet Franc, the deep garnet-purple colored 2015 Cos d'Estournel is muted at this very young stage. The nose offers fleeting glimpses at provocative cherry tart, chocolate mint, baked redcurrants, warm cassis and wild blueberry scents plus suggestions of lilacs, cinnamon stick and Indian spices. Medium to full-bodied, the palate absolutely explodes with vibrant red and black fruit bursts and tons of exotic spice accents, framed by super ripe, super firm tannins and a lovely line of freshness, finishing very long.
by LPB, Robert Parker , 2018
Wine Spectator 92
This has a gently steeped core of currant, plum and black cherry fruit, infused with black tea, singed juniper and smoldering tobacco notes. The vintage's overt austerity is less evident here, with a gloss of alluring toast adding polish to the finish. A strong effort.
by JM, Wine Spectator , 2018
Technical Details
Vintage
Still a bit shy, the 2015 vintage will reveal itself fully overtime.
With intense yet mellow notes of spice, it already has the qualities of a very great Cos d'Estournel. Its complex aromatic signature promises an opulent, deep and ample wine, the very embodiment of elegant refinement.
Serving suggestion
Wine is a living thing. After aging in the barrel, it continues to evolve in the bottle, year after year. To fully appreciate the aromas of the wines of Cos d'Estournel, we suggest following a few simple rules.
Ideally, wines should be stored in a clean room between 12 Celsius and 15 Celsius and at about 80% humidity.
The wines of the estate will develop complex aromas that will vary according to the characteristics of each vintage and evolve with time. Proper service will allow these qualities to express themselves completely.
The youngest vintages—those produced after 2000—should be decanted at least an hour and a half before tasting. Aeration will help bring the spirit and passion of each wine into focus, so its potential can be fully revealed.
We recommend decanting vintages between 1982 and 2000 about an hour before serving, so their aromas may be released gently.
Wines produced before 1982 should be served in the bottle to avoid abrupt aeration that may not be favorable to the delicate nature of these precious nectars.
We recommend serving wines between 17 Celsius and 18 Celsius. As they continue to warm up in the glass, they will release their full palette of aromas and reveal their most subtle, delicate nuances.