Chateau Margaux
2008
RED WINE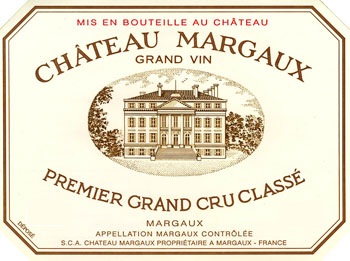 Producer Chateau Margaux
Country France
Region Bordeaux
Appellation Margaux
UPC N/A
Reviews
James Suckling 94
This is so subtle and refined on the nose with amazing perfumes of rose petal, blueberries and blackberries. Full but very tight and fresh with a lovely length that goes on and on. Starts off slowly with a solid core of fruit, then grows denser and denser. This is shy at first, needs at leat five years of bottle age.
by JS, James Suckling , 2010
Robert Parker 94
This is a stunning Chateau Margaux, made in a sexy, up-front, elegant style, with deep creme de cassis fruit intermixed with spring flowers, a solid inner core of richness and depth, but again, very sweet tannins as well as striking minerality and elegance. One of the most seductive Chateau Margauxs given its recent bottling, this blend of 87% Cabernet Sauvignon, 10% Merlot, and the rest tiny quantities of Cabernet Franc and Petit Verdot should drink beautifully for the next 25-30 years. Remarkably, a mere 36% of the entire production was selected for the 2008 Chateau Margaux.
by RP, Robert Parker , 2011
Wine Spectator 91
Shows a lightly sinewy edge, with coiled notes of damson plum, red currant preserves, rooibos tea, singed balsa wood and iron, lacking the vintage's typical crisp edge. The fine-grained finish is approachable already, but this will age gracefully and should develop a more perfumed than rich profile.
by JM, Wine Spectator , 2014
Technical Details
Tasting notes
The 2008 is a very fine Château Margaux, it displays a nose of great finesse and purity, and it is as deep and charming as the 2004. What really amazes us is its power on the palate: we never expected such density, length and richness. The tannins are superb! They give the Château Margaux 2008 a very tight-grained texture, wonderful length, and a more classic personality than previously thought. (May 2010)
Vintage 2008
No vintage since 2005 has had glorious weather during the month of August; still, every year, the grapes have ripened (particularly those in the great terroirs), thanks to fine weather in September. But other positive factors might not be obvious: in 2008 the July drought and the nice weather from mid-September onwards probably limited the consequences of the regular and light August showers.
As always it is our drastic selection which brings out the true spirit of a vintage. 2008 is no exception to the rule. The first wine only represents 36% of the crop (31% at bottling, once the wine has lost its lees due to the rackings during the ageing in barrel). Each grape variety plays its harmonious part in the blend: our best Merlot (10%) brings more power, fatness and flesh than it did in 2006 or 2007; the Cabernet Sauvignon (87%) is as usual the heart and the soul of the wine. Not forgetting the Cabernet Franc (1.5%) and the Petit Verdot (1.5%) whose modest presence does not truly reflect their influence in the blend.
Weather
After quite a dry winter, spring was cool and damp; in fact it was so chilly at the beginning of April that we used our anti-frost sprays on April 7th at Virefougasse, our Sauvignon Blanc plot. May was particularly wet, which heightened the risk of downy mildew at a time when the vines were most vulnerable, so that for the second year in a row, we had to carefully monitor the health of the vines. Nevertheless we continued our research on alternative solutions to chemical sprays; the conditions provided us with an ideal opportunity to do so. The flowering began at the very beginning of June, right on the normal date, although it was partly affected by heavy rains, which were no doubt responsible for the coulure and millerandage observed in some of the Merlot plots. Also, the vines showed fewer potential grapes than last year, so we knew that we were in for a smaller crop. The weather was cool throughout the summer, with temperatures around two degrees below average in July, August and September. July, however, was very dry with barely 10 mm (0.4 of an inch) of rain, whereas in August and up till September 15th, it rained regularly. This chilly and humid weather slowed the colour transformation of the grapes and their ripening process while it gradually affected our spirits… And then, another miraculous turnaround occurred. The weather changed radically mid-September, and fine and dry days set in for an entire month, right until the end of the picking! (The picking started on October 3rd).