Chateau Margaux
2003
RED WINE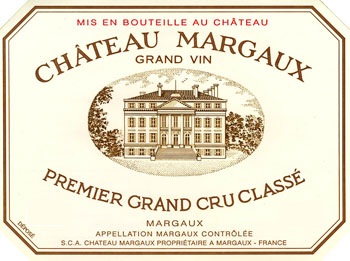 Producer Chateau Margaux
Country France
Region Bordeaux
Appellation Margaux
UPC 0 15643 60769 1
Reviews
James Suckling 97
A wine with spices, meat, and very ripe fruit on the nose, with hints of dried flowers. Full bodied, and deeply layered, with loads of fruit and spices. Long and decadent, very complex.
by JS, James Suckling , 2011
Robert Parker 93
Tasted blind as a vintage comparison at the Valandraud vertical, the 2003 Margaux is fully mature on the nose. There is ample fruit here, well defined for the vintage with blackberry and cedar, this bottle demonstrating a subtle fungal character that I have not discerned in previous bottles. There are faint scents of rust iron piping that develop with further aeration. The palate is medium-bodied with slightly dry tannin, offering more fruit than the 2003 Valandraud it was paired with: feisty black pepper and allspice finish with a decent aftertaste. There might be better bottles than this, even so, there is probably not another Margaux that touches this First Growth. I see no harm in broaching bottles now and over the next ten years. Tasted December 2016.
by NM, Robert Parker , 2017
Wine Spectator 98
Ultraconcentrated, with layers and layers of fruit and superfine tannins. Plenty of fruit, mineral and meat character. Full-bodied yet refined and classy, it coats your palate with gorgeous fruit and ripe tannins. Truly superb. One of the wines of the vintage. Best after 2012. 10,830 cases made.
by JS, Wine Spectator , 2006
Technical Details
Vintage 2003
However, what we actually have, literally jumping out of the glass, are red berry fruit aromas, freshness and purity. We can even find, as in 1996 and 2000, a mingling of floral and slightly spicy notes, coming through delightfully in this very complex cocktail, in which the new oak has already been totally integrated, as if it had been "digested" by the body of the wine.
And what body! We knew, of course, that all the wines were extremely concentrated. It has to be said that when you add, so to speak, a very low yield to the hot weather conditions in the summer, plus the blending, in which there was an excellent press wine, the result is a wine which possesses a density which has been unparalleled in recent vintages. This density gives the wine not just power and strength, but depth and length too ; and above all, a tannic structure which is so tightly-knit that its texture has taken on a silky feel.
A lot had been said, that year, about acidity and the mysteries of it. It is true that grapes had rarely been picked at such low levels of acidity as in 2003. And yet, through the combination of the acids being produced during the fermentation process, a lesser tartaric acid precipitation and a low malic acid content, we actually ended up with a total acidity which was exactly the average of the last 20 vintages. This vintage, with its extreme weather conditions (as we thought), in fact gave birth to a great classic claret! (April 2011)
Climate
2003 was a very early vintage which will above all be remembered for its exceptionally hot summer weather. Such conditions, which at times were described as extreme, caused many questions to be asked and sometimes gave rise to concerns; however, the greatest terroirs fared remarkably well, producing grapes of perfectly balanced ripeness. The picking began on September 10, as in 1989, which was the earliest vintage since 1893.