Flechas De Los Andes - Gran Corte - Malbec
2012
RED WINE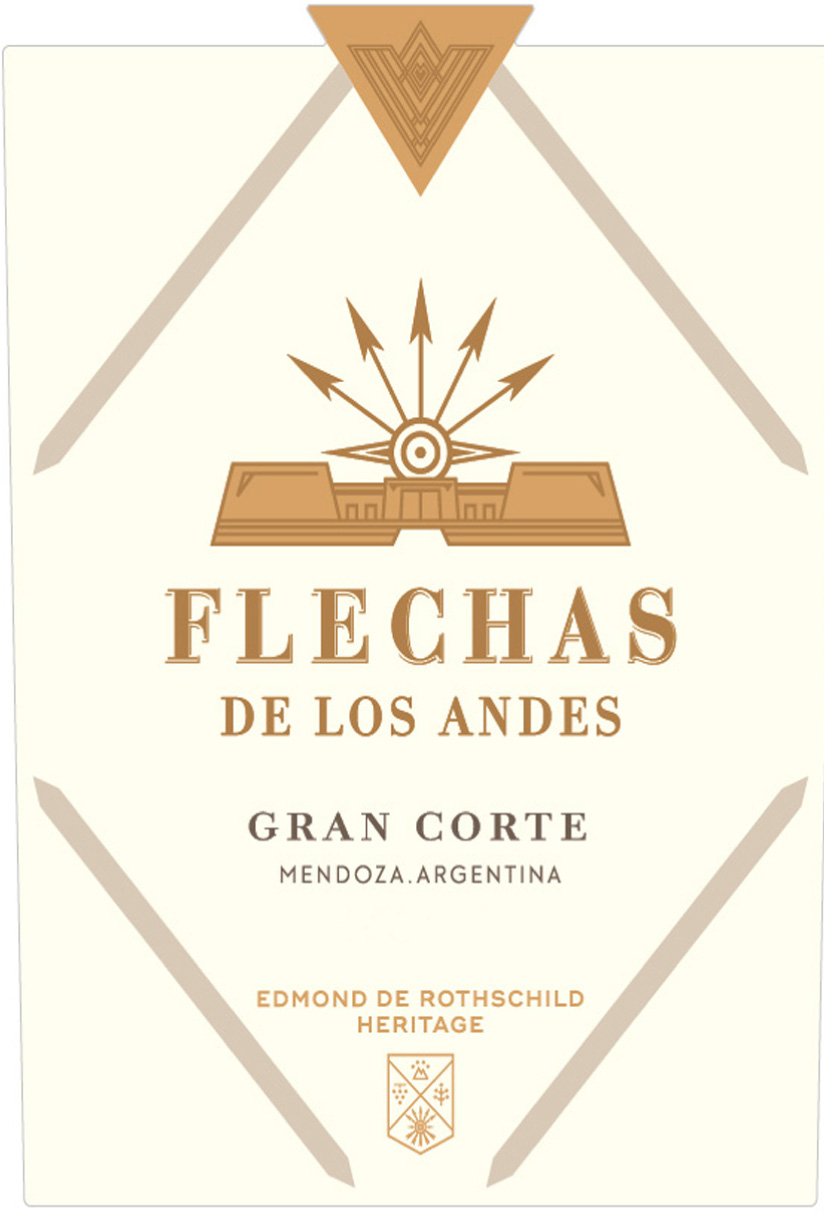 Producer Flechas de los Andes
Blend 20% Cabernet Franc
60% Malbec
20% Syrah
Country Argentina
Region Mendoza
UPC 8 94597 00202 4
Reviews
James Suckling 93
A rich and juicy red on the nose with chocolate, dark berry and spice undertones. Medium to full body, round and soft tannins and a savory finish. Opulent style yet vivid and clean. A blend of malbec, cabernet sauvignon, merlot and petit verdot. Drink now or hold.
by JS, James Suckling , 2018
Robert Parker 91
Ripe, earthy and oaky, as if it was from a different era, the 2012 Gran Corte is a blend of 60% Malbec, 20% Cabernet Franc and 20% Syrah that matured in new French oak barrels for two years. Time is rendering the fruit, while some tannins might remain. I think it's better to drink it up. 30,000 bottles produced.
by LG, Robert Parker , 2018
Technical Details
Description
Flechas de los Andes was born from the partnership between Baron Benjamin de Rothschild and Laurent Dassault, as the result of their research of a great terroir at the foot of the Andes in the Mendoza region. Each harvest is handpicked, hand selected, and then fermented with high quality requirements in the most modern equipment.
The name "Flechas de los Andes" or "Andes arrows" refers to the 5 arrows, symbol of the Rothschild family (symbolizing the five brothers at the origin of this dynasty of entrepreneurs). At the foot of the Andes, 120 km south of Mendoza, the Malbec variety rules as the king of this unique terroir. This wine "Gran Malbec " was created to achieve a Malbec of high range, faithful representative of the both families Rothschild and Dassault are aiming to produce a great Argentinian Malbec.
Tasting notes
Classic Uco Valley aromas of deep berry fruits are touched-up by oak that lends tobacco and vanilla to the nose. On the palate the pretty cherry, plum and raspberry flavors are Bordeaux-like, with nice acidity on the finish. Drink through 2028—this will last for ages.
Technical data
Appellation: Vista Flores, Uco Valley – 120 km south of Mendoza – Argentina.
Altitude: 1,100m.
Vineyard area: 110 ha.
Soil type: Granite, sand, and gravel from the Andes.
Vine density: 5,800 vines/ha.
Average age of the vines: 17 years.
Soil management: Natural grass cover and drip irrigation.
Pruning: Double guyot.
Harvest: Hand-picking and sorting of all the grapes.
Winemaking: Vats filled by gravity flow. Cold maceration and fermentation in stainless steel tanks.
Ageing: 100% in new barrels for 24 months.